SSC CHSL Exam Analysis 2021 & Exam Review: SSC CHSL को 12 से 27 अप्रैल और 21 से 22 मई 2021 तक आयोजित किया जा रहा है। सभी शिफ्ट का विस्तृत SSC CHSL परीक्षा विश्लेषण जो कि 12 अप्रैल 2021 से शुरू होने जा रही हैं, के साथ-साथ शिफ्ट में पूछे जाने वाले प्रश्न और छात्रों की परीक्षा की समीक्षा यहाँ प्रदान की गई है जो उन उम्मीदवारों की मदद करेगा जो अभी तक परीक्षा में शामिल नहीं हुए हैं।
Check questions asked in SSC CHSL Tier-I Exam
SSC CHSL टियर 1 परीक्षा विश्लेषण 2020: यहाँ देखें सभी शिफ्ट की परीक्षा का विश्लेषण(SSC CHSL Tier 1 Exam Analysis 2020: Check Exam Analysis of All Shifts)
SSC CHSL विस्तृत परीक्षा विश्लेषण की जाँच करने के लिए नीचे दिए गए लिंक पर क्लिक करें:
Watch SSC CHSL Tier-I 12th April [Shift-1] Analysis
कर्मचारी चयन आयोग (SSC), ग्रुप C और D स्तर के विभिन्न पदों पर भर्ती आयोजित करता है, जिसमें लाखों उम्मीदवार शामिल होते हैं। टियर 1 परीक्षा पूरे भारत में कई शिफ्ट में आयोजित की जाती है और SSC CHSL टीयर 1 परीक्षा के लिए सभी शिफ्ट का विश्लेषण नीचे दिया गया है। हम आयोजित परीक्षा के अनुसार यहाँ परीक्षा विश्लेषण के लिए सभी लिंक प्रदान कर रहे हैं।
हम आपको SSC CHSL 2021 परीक्षा विश्लेषण के बारे में पूरी जानकारी प्रदान कर रहे हैं।
SSC CHSL टियर-1 Exam Analysis 2020: सभी शिफ्ट के परीक्षा का विश्लेषण
SSC CHSL विस्तृत परीक्षा विश्लेषण की जाँच करने के लिए नीचे दिए गए सीधे लिंक पर क्लिक करें:
SSC CHSL Tier 1 Exam Analysis 2020: परीक्षा पैटर्न और परीक्षा का स्तर
SSC CHSL टियर 1 परीक्षा का कुल मिलाकर स्तर आसान से मध्यम था। 74-81 तक का रेंज अच्छा प्रदर्शन है।
| Section | Subject | No of Questions | Good Attempts |
| --- | --- | --- | --- |
| 1 | General Intelligence and Reasoning | 25 | 22-23 |
| 2 | General Awareness | 25 | 15-17 |
| 3 | Quantitative Aptitude | 25 | 16-18 |
| 4 | English Comprehension | 25 | 21-23 |
| | Total | 100 | 74-81 |
Bring the Signed Copy of the Self Declaration Form in the below Format:
I hereby declare that I haven't been tested positive for Corona Virus or identified as a potential carrier of the COVID-19 virus and I am also not having any of the symptoms related to COVID-19.
Candidate Name
Candidate Roll No.
Exam Name
Exam Date
Exam Shift
Exam Venue Name
Signature of Candidate
Items to be carried in the Exam Hall during SSC Exams
Candidates should invariably bring the following at the time of reporting for the examination:
Admission Certificate (Print Copy of Admit Cards).
Two copies of their latest colored passport-size photograph (3 cm x 3.5 cm).
At least one valid photo-bearing identity proof in ORIGINAL with clear photograph (Eligible photo identity proofs such as Passport, Aadhaar Card/ Print out of e-Aadhaar, Driving License, Service ID Card issued to employees by Central Govt./State Govt./ PSUs, ID Card issued by University/College/School, Voter's ID Card, PAN Card, Ex-Servicemen Discharge Book issued by Ministry of Defence, Any other Photo Identity Proof issued by Central Govt./ State Govt.).
If the Photo Identity Card does not contain the complete Date of Birth, then the candidate must carry an additional original document having the Date of Birth as printed on the Admission Certificate (e.g. Admit Card/ Pass Certificate/ Marks Sheet of 10th Class issued only by CBSE/ ICSE/ State Boards; Birth Certificate, Category Certificate, etc. issued only by Central Govt. / State Govt. / PSUs). In case of a mismatch in the Date of Birth mentioned in the Admission Certificate and Photo ID Proof/ the Certificate brought in support of the Date of Birth, the candidate will not be allowed to appear in the examination.
Face mask.
Hand sanitizer (small bottle).
Transparent water bottle.
Printout of COVID-19 Self Declaration Form provided with the Admission Certificate.
Important Links for SSC CHSL
SSC CHSL Exam Analysis 2020: अंग्रेजी भाषा
SSC CHSL टियर 1 परीक्षा में अंग्रेजी भाषा सेक्शन का कुल मिलाकर स्तर आसान था। अंग्रेजी में पूछे गए टॉपिक है:- Active Passive, Error Detection, Cloze Test आदि। इस सेक्शन के पूछे गए प्रश्न का गुड अटेम्प्ट 21-23 हैं।
| S.No. | Topics | No. Of Questions | Level |
| --- | --- | --- | --- |
| 1 | Fill in the Blanks | 2 | Easy |
| 2 | Sentence Improvement | 1 | Easy-moderate |
| 3 | Error Detection | 2 | Easy |
| 4 | Sentence Rearrangement | 2 | Easy-moderate |
| 5 | Idioms and Phrases | 2 | Easy |
| 6 | Synonyms | 2 | Easy |
| 7 | Antonyms | 2 | Easy |
| 8 | Active Passive | 2 | Easy |
| 9 | Direct Indirect | 1 | Easy |
| 10 | Phrase Substitution | 2 | Easy-moderate |
| 11 | Spelling Correction | 2 | Easy |
| 12 | Cloze Test Passage | 5 | Easy-moderate |
| | Total | 25 | Easy |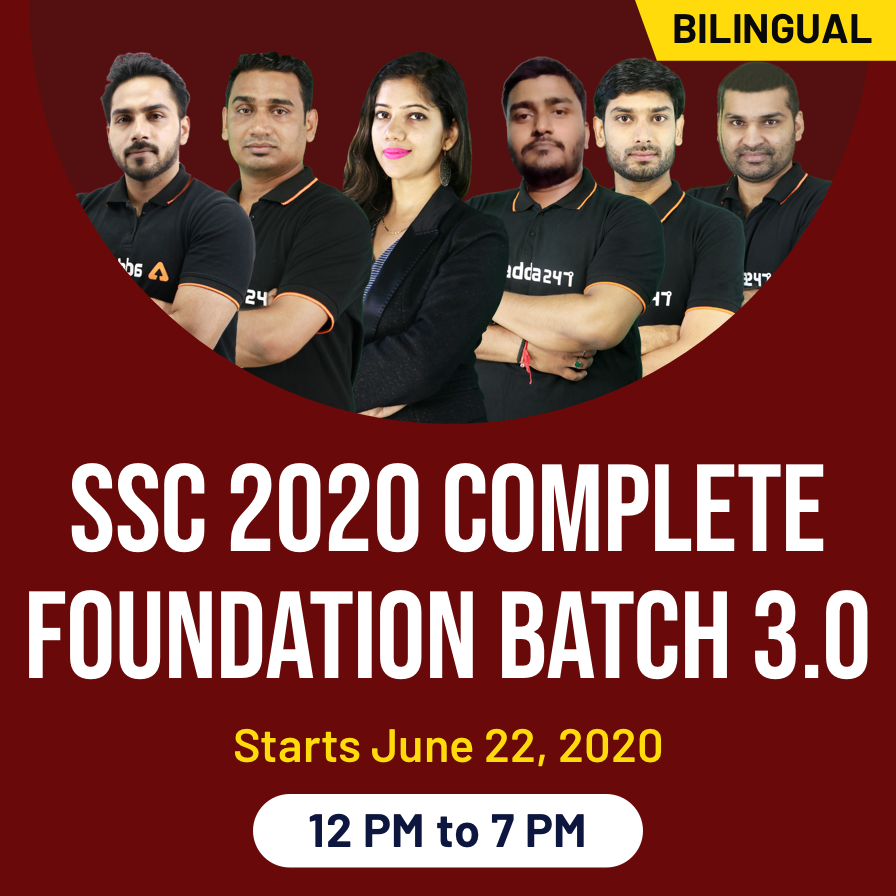 SSC CHSL Exam Analysis 2020: गणित
SSC CHSL टियर 1 परीक्षा में गणित सेक्शन का कुल मिलाकर स्तर आसान से मध्यम था। गणित सेक्शन में शामिल विषय अंकगणित और एडवांस मैथ हैं। उम्मीदवारों ने इस सेक्शन में कम से कम 16-18 प्रश्नों को हल किया है।
| S.No. | Topics | No. Of Questions | Level |
| --- | --- | --- | --- |
| 1 | Percentage | 1 | Easy |
| 2 | Average | 1 | Easy-Moderate |
| 3 | Number System | 1 | Easy |
| 4 | Simplification | 1 | Easy |
| 5 | Time & Work | 1 | Easy-Moderate |
| 6 | Speed & Distance [Train] | 1 | Easy-Moderate |
| 7 | S.I. & C.I. | 1 | Easy-Moderate |
| 8 | Profit & Loss | 2 | Easy |
| 9 | Algebra | 3 | Easy-Moderate |
| 10 | Geometry | 3 | Easy |
| 11 | Mensuration | 2 | Easy-Moderate |
| 12 | DI [Tabular] | 3 | Easy-Moderate |
| 13 | DI [Bar Graph] | 2 | Easy |
| | Total Questions | 25 | Easy-Moderate |
SSC CHSL Exam Analysis 2020: जनरल इंटेलिजेंस एंड रीजनिंग 
SSC CHSL टियर 1 परीक्षा में जनरल इंटेलिजेंस एंड रीजनिंग सेक्शन का कुल मिलाकर स्तर आसान था। रीजनिंग सेक्शन में पूछे गए टॉपिक में एनालॉजी, कोडिंग-डिकोडिंग, ऑड वन आउट आदि हैं। प्रश्नों की टॉपिक-वाइज डिटेल नीचे दिया गया है।
| S.No. | Topics | No. Of Questions | Level |
| --- | --- | --- | --- |
| 1 | Analogy | 2 | Easy |
| 2 | Odd One Out | 3 | Easy  |
| 3 | Series | 2-3 | Easy  |
| 4 | Statement & Conclusions | 1 | Easy-Moderate |
| 5 | Directions | no question | – |
| 6 | Sequence | 3 | Easy |
| 7 | Coding-Decoding | 2-3 | Easy |
| 8 | Mathematical Operations | 1 | Easy |
| 9 | Dice | 1 | – |
| 10 | Blood Relation | 1 | Easy  |
| 11 | Mirror Image | 2 | Easy  |
| 12 | Venn Diagram & Syllogism | 1 | Easy  |
| 13 | Paper Folding Image | 1 | Easy |
| 14 | Syllogism | 1 | Easy |
| 15 | Miscellaneous Ques | 3-4 | Easy |
| | Total | 25 | Easy |

SSC CHSL Exam Analysis: पिछले वर्ष के परीक्षा(सभी शिफ्ट) का Analysis
उम्मीदवार 1 जुलाई 2019 से आयोजित SSC CHSL परीक्षा के लिए पिछले वर्ष के परीक्षा के विश्लेषण को देख सकते हैं। वे SSC CHSL परीक्षा के टॉपिक-वाइज परीक्षा विश्लेषण के लिए नीचे दिए गए लिंक पर क्लिक कर सकते हैं।

SSC CHSL Exam Analysis 2020 सामान्यतः पूछे जाने वाले प्रश्न:-
SSC CHSL टियर 1 परीक्षा में कुल कितने प्रश्न पूछे जाते हैं?
SSC CHSL टियर 1 परीक्षा में कुल 100 प्रश्न पूछे जाते हैं।
SSC CHSL टियर 1 परीक्षा का कुल मिलाकर स्तर क्या था?
आज की परीक्षा का कुल मिलाकर स्तर आसान से मध्यम था।
परीक्षा में सबसे कठिन सेक्शन कौन थे?
सामान्य जागरूकता और मात्रात्मक योग्यता कठिन सेक्शन थे।
SSC CHSL टियर 1 परीक्षा में कुल कितने शिफ्ट हैं?
टियर 1 परीक्षा कुल 3 पालियों में आयोजित किए जाते है।
टीयर 1 परीक्षा में कौन-कौन से विषय पूछे जाते हैं?
SSC CHSL परीक्षा में पूछे जाने वाले विषय जनरल इंटेलीजेंस(सामान्य बुद्धिमत्ता) और रीजनिंग, गणित, जनरल अवेयरनेस और अंग्रेजी भाषा हैं।
टियर 1 परीक्षा की कुल अवधि क्या है?
परीक्षा की कुल अवधि 60 मिनट है।
Important Links for SSC CHSL