प्रिय अभ्यर्थी,
RRB NTPC  की परीक्षा तिथि कभी भी जारी हो सकती है। RRB ने हाल ही में घोषणा की है कि 15 दिसंबर से RRB NTPC CBT 1 का आयोजन किया जाएगा। यह RRB NTPC के सभी उम्मीदवारों के लिए अच्छी खबर है। इसके मद्देनजर, अभ्यर्थी को बड़े पैमाने पर तैयारी करने की आवश्यकता है और प्रैक्टिस के लिए अंतिम समय का इन्तजार नहीं करना चाहिए। हम सही दिशा में सही मार्गदर्शन के महत्व को समझते हैं और उसी उद्देश्य के साथ, हम "Adda247 Crash Course" for RRB NTPC, the all-in-one package for your ultimate preparation. लॉन्च कर रहे हैं। जिसमें आप FLAT499 कोड लगाकर 499 रु. में प्राप्त कर सकते हैं। इस पैकेज में बारे में नीचे विस्तार से बताया गया हैं।
RRB NTPC Adda247 क्रैश कोर्स ऑफर परीक्षा की तैयारी के लिए आपकी जरूरत की हर चीज को कवर करता है। इसमें लाइव क्लास, फुल-लेंथ मॉक टेस्ट, प्रैक्टिस सेट, ई-बुक्स आदि शामिल हैं। हमारी लाइव क्लासेस और ई-बुक्स से सीखें और फिर प्रैक्टिस के लिए मॉक टेस्ट दें। हम आपको निम्नलिखित प्रदान करते हैं: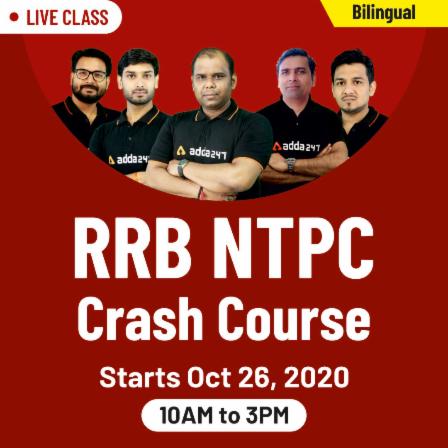 110 hours interactive Live Classes
Counseling Sessions by Expert Faculties
Recorded Videos available 24/7 for quick Revision.
Solve Unlimited doubts with experts.
Strategy session on how to attempt the exam.
Get Preparation tips from the experts & Learn Time Management.
Timings for The RRB NTPC Crash Course
RRB NTPC क्रैश कोर्स 26 अक्टूबर 2020 से शुरू है।
समय- 10:00 am-3:00 pm| हिंदी और इंग्लिश दोनों भाषाओँ में
वैधता-6 माह
तो देर किस बात की? अभी RRB NTPC Crash Course ज्वाइन करें।
Check out the links below: