SSC CGL टीयर 2 2020 परीक्षा और शेष SSC CHSL टीयर 1 परीक्षा पूरे देश में लॉकडाउन समाप्त होने के बाद आयोजित की जाएगी। उम्मीदवारों को तारीखों की घोषणा का इंतजार नहीं करना चाहिए और परीक्षा की तैयारी करते रहना चाहिए। यदि आप परीक्षा के प्रमुख तत्वों की तलाश करते हैं, तो क्वांटिटेटिव एप्टीट्यूड किसी भी सरकारी नौकरी परीक्षा पर हावी है।
Adda247 सभी सरकारी परीक्षाओं के लिए Maths Premium Batch के साथ आया है जहां हम परीक्षा की तैयारी कर रहे छात्रों के लिए उपयोगी लाइव कक्षाएं प्रदान करेंगे। Maths Premium Batch सुनिश्चित करेगा कि आप सभी परीक्षाओं में सर्वोच्च प्रदर्शन करें।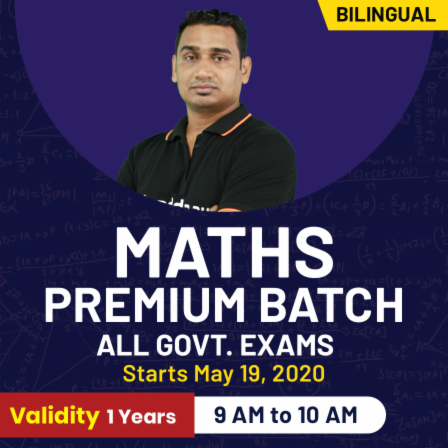 What will you get?
90+ hours interactive Live Classes.
5000+ Practice set Questions.
Weekly Tests
Get access to the Teacher's Class Notes/Slides
Counselling Sessions by Expert Faculties
Practice set Questions based on the latest pattern.
Recorded Videos available 24/7 for quick Revision.
Solve Unlimited doubts with experts.
Strategy session on how to attempt the exam.
Get Preparation tips from the experts & Learn Time Management.